Troy Custom Detectors is no longer manufacturing metal detectors. As a tribute to Troy Galloway, Graphique Du Jour is
hosting a copy of his original website for his achievment in designing and bringing to market a the Shadow line of detectors,
with features and performance previously unmatched. Graphique Du Jour Home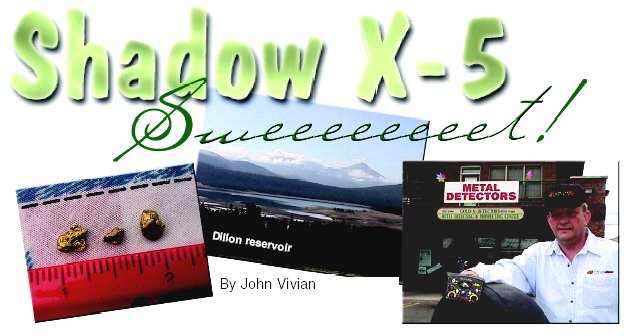 Hey, what would you do if one of your hunting buddies called you up and asked if you wanted to give a new detector a good outing in the field before the general hunting public gets their hands on one? I donít know about you, but I said YES! About three weeks ago I received a call from Bill Chapman, owner of Gold-N-Detectors located oddly enough in Golden, Colorado. Bill and I are partners in a high altitude mineral claim covering some sixty acres up near the Continental Divide. Both Bill and I are avid hunters for the one metal truly worth our time and our batteries - GOLD NUGGETS!

THE CHALLENGE
Bill had received a call from Troy Galloway who has many years experience in electronic engineering and had recently developed a new All Terrain Detector (ATD) -the Shadow X-5. Troyís new design is being assembled, tested and warrantied by Fisher Research Labs, one of the premier manufacturers now supplying a variety of units to the hobby. The Shadow X-5 is designed to be an all around, balanced land machine with features for hunting coins, relics, beaches, in competition, and those deep caches. By no accident, it was also designed for prospecting! Troy had asked Bill to take one of the first units off the test bench and give it a tryout in real conditions searching for gold.

FIRST INTRODUCTIONS
The pleasant task confronting us was to put the new unit through its paces and report what we encountered. I met Bill at his shop on Saturday afternoon on the day prior to our scheduled outing. The first thing I noticed about the X-5 was how incredibly light it was yet built solid for rugged use. There is no need to hip mount this little jewel. We air tested the machine and found that it was indeed very sensitive to small gold nuggets while running in the All-Metal mode. A small nugget weighing at just over 1 gram (about the size of 1/2 the end of a pencil eraser) was passed back and forth beneath the coil and was easily recognized at distances of 10 to 11 inches. Next a cold-stone was introduced... you know, the ones that go BONGBONG when you find them in the field. The stone was balanced out and the small nugget placed on the side away from the detector. Again, a solid sound was detected at 6 to 7 inches. Finally, the infamous Breckenridge hot-rock (the ZIP-ZIP type we encounter frequently on our claim) was used for testing. It was likewise balanced out and the gold nugget Ďunder the rockí test was repeated. Amazingly enough, we got the same results... a good tone at 6 to 7 inches. At this point a certain word came to mind, and I expressed it loudly.

THE OUTING
Sunday morning dawned pleasantly overcast and cool. This was a welcome relief from the sweltering hot days we have been having here in the Denver area. This is Colorado and anything over 90 is not what we like. I met Bill at the shop about 7:30am, took time for a few pictures, loaded up our gear into my go-anywhere little Blazer S-10 4X4 and headed for our claim. The drive takes about an hour and half heading up I-70 past the Dillon reservoir and then turning south from Frisco toward Breckenridge.

We arrived at our claim around 9:15am, having stopped along the way for provisions for the dayís lunch. We had an option of using the same 7" accessary coil we had used in the shop for the test or trying out the standard 9" spider coil also provided. Since this is gold country and it is small gold we were after, we opted to stick with the 7" loop. This area is heavily mineralized and requires units that can be manually balanced to get rid of either the cold-stone or hot-rocks, whichever you prefer. Bill had also brought along a new auto-tracking nugget hunting detector as yet a third unit to try in the days planned fun and games.
THE FUN & GAMES
As anyone who prospects electronically should already know, the only way to make certain of a detectors ability to find gold under actual conditions, is to check the detector using a test nugget. We started by burying one of the three small test nuggets we had brought along for the outing at a depth of 3" in this highly mineralized soil. We use a 3" depth as fairly standard for checking our familiar nugget shooters. This piece weighed in at 0.9 grams and was slightly smaller than the one used at the shop for the air test. The X-5 easily found the nugget in the appropriate All-Metal mode. We were amazed! "I wonder how deep we can go?" Bill asked. We chased that little beauty down over FIVE INCHES!

Then we chose a smaller nugget yet, a 0.4 grams, to check the X-5ís response to really small pieces. We chased that small piece of precious metal past the 3" mark. Again that certain word escaped my lips audibly.

Next we went the other way and pulled out the1.2 gram nugget used at the shop. This piece was detectable with a strong signal down to a depth of 7".

Finally, we buried one of my favorite tuning targets, a nickel, about 10 inches deep. I use a nickel each time I initially tune-up and test my manually ground-balanced nugget hunting detector. I
like to get a ground test of about 10 to 12 inches on a nickel sized target before I begin my hunting up here. Believe it or not, this is actually smaller than the average size of the nuggets I and others have taken out of this area over the past few years, and we didnít have a test nugget this large with us.

With the nickel at 10 inches my manually ground-balanced "old favorite" nugget shooter found it as always. Incredibly, the Shadow X-5 also gave us a strong signal, but oddly enough Billís auto tracking unit was just barely getting a tone.

Having seen the X-5ís capabilities in our heavily mineralized soil and still function with target recognition, it was time to put our observations to work. Speaking of observations, every time Bill and I come up to our claim, we always take time to look around and soak in the unbelievable views we have surrounding us. Weíve got natureís paradise and gold too. Who could ask for more.

Now it was time for serious hunting. I spent the next 2 1/2 hours giving the X-5 a free-roaming test over much of the area. I found, as appropriate to nugget hunting, that I only wanted to run the machine in the All-Metal mode properly groundbalanced. I played with the DISC mode used only infrequently to check the Shadow X-5ís ability to eliminate tramp iron, and it did an admirable job. However, since this is a gold bearing area, I usually dig EVERYTHING anyway. What really impressed me was the extreme depth I was getting on all kinds of targets from whole nails, to bits of tin, to small pieces of aluminum. No gold jumped out of the ground this day, but Iím certainly looking forward to our future adventures with my now new "old favorite."

WRAP-UP
The Shadow X-5 demonstrated excellent depth in heavily mineralized soil when run in the All-
Metal mode, equaling or bettering the depth I get with my "old favorite" nugget hunting detector. It
demonstrated a high degree of sensitivity to small gold targets in these soil conditions. An excellent
showing for a newcomer on the block.

This is a terrific all-around machine, extremely lightweight, well balanced and easy to handle. The control box fingertip layout is excellent, stable and easy to access. Also, I was amazed at the depth and power the X-5 has, as it operates on a single 9 volt battery.

Bill and I had a great time that day at one of our favorite places on this planet. We got to be one of the first to put a new machine through its paces and experience first-hand, an exceptional gold hunting machine in action.

Oh, and that certain word that came to mind when I first tested this newcomer out in Billís shop?
- Sweeeeeeeet!