Shadow X2 Finds by John Hitt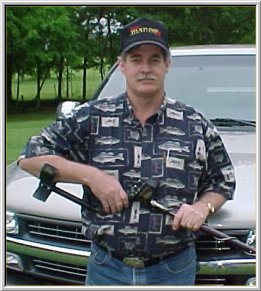 I am sure glad that Sgt. Chas Fournia lost his Silver Corp Badge where he did. I am also glad that I was using a detector that is good for hunting relics. I had my Shadow X2 disc. set on about a 3 with the sens set on about 8.5. I was using these settings because we were looking for camp trash. I had the 7" coil on so I could move it around better in the thickets.
I was hunting with my brother Jim and another hunting buddy, Terry, in Natchitoches Parish La. We knew that several thousand troops had been through there on their way to Mansfield. We had hunted that area several times only finding a few buttons and a few bullets but no camp. That morning we split up and I was hunting a ridge that we had not seen before. I worked the ridge for about an hour, found a few dropped bullets and then there it was, about 5" deep. I can not describe the joy I felt when I saw silver. It was covered in mud and at first I thought it was a Spanish Reale. As I cleaned the mud off with my thumb I could see part of a name at the top and then the badge shape.
With some research and a lot of help from some really nice people like Jim upstate NY, The Carolina Rebel and others we found that Charles Fournia mustered in at the age of 24 in Plattsburg, New York. Came by boat to New Orleans and up the Red River. The records show the day that the 2nd Cav., known as the "Empire Light Cavalry", came through Natchitoches on there way to Mansfield and the date that they retreated back through on there way back to Alexandria. The pin is broken off the back of the badge and I suspect that Sergt Fournia never knew where he lost his Silver Corp Badge.
I hope that all of you have as much fun detecting as I have had and Happy Hunting to everyone.
John Hitt