Learn about each of the following illustrators and see a sample of their work at The American Illustrators Gallery
CONSTANTIN ALAJALOV
ROLF ARMSTRONG
STANLEY ARTHURS
JOHN ATHERTON
MCCLELLAND BARCLAY
MARY R. BASSETT
ARTHUR E. BECHER
LUDWIG BEMELMANS
GERRIT A. BENEKER
ANNA WHELAN BETTS
ETHEL FRANKLIN BETTS
S. COLE BRADLEY
PAUL BRANSOM
FREDERICK SANDS BRUNNER
CHARLES LIVINGSTON BULL
CLARA M. BURD
HAL BURROWS
HOWARD CHANDLER CHRISTY
FREDERICK STUART CHURCH
BENTON CLARK
JOHN CLYMER
DEAN CORNWELL
DOUGLASS CROCKWELL
MAYNARD DIXON
STEVAN DOHANOS
PETER DRIBEN
HARVEY DUNN
EDITH EMERSON
MAGINEL WRIGHT ENRIGHT
JOHN FALTER
HARRY FENN
ANTON OTTO FISCHER
HARRISON FISHER
JAMES MONTGOMERY FLAGG
ALAN STEPHENS FOSTER
ARTHUR DAVENPORT FULLER
PAOLO GARRETTO
HAROLD GAZE
CHARLES DANA GIBSON
FRANK GODWIN
PHILIP R. GOODWIN
ELIZABETH SHIPPEN GREEN
FREDERICK R. GRUGER
CHARLES BUDD HAWES
JOHN HELD JR
GEORGE HOOD
GEORGE HUGHES
E. O. HURST
ELBERT McGRAN JACKSON
R. C. KAUFFMAN
LON KELLER
OLIVER KEMP
J. F. KERNAN
W. H. D. KOERNER
JOHN LAGATTA
MANNING DEVILLENEUVE LEE
F. X. LEYENDECKER
J. C. LEYENDECKER
HENRY LINNELL
ORSON LOWELL
CHARLES MACLELLAN
THORNTON OAKLEY
VIOLET OAKLEY
CUSHMAN PARKER
MAXFIELD PARRISH
MARGARET WHITCOMB PEARL
GENE PELHAM
EDWARD PENFIELD
C. COLES PHILLIPS
NORMAN PRICE
HOWARD PYLE
ARTHUR RACKHAM
NORMAN ROCKWELL
ALEX ROSS
RUSSELL SAMBROOK
MARTHA SAWYERS
MEAD SCHAEFFER
JES SCHLAIKJER
FRANK E. SCHOONOVER
CHARLES SHELDON
BARBARA SHERMUND
JESSIE WILLCOX SMITH
WALTER GRANVILLE SMITH
HENRY J. SOULEN
ROY SPRETER
PAUL STAHR
ALICE BARBER STEPHENS
HADDON SUNDBLOM
ROBERT TALLON
LESLIE THRASHER
GEORGE T. TOBIN
GRISWOLD TYNG
EDWARD BUK ULREICH
HAROLD VON SCHMIDT
JAMES WILLIAMSON
JACK WITTRUP
N. C. WYETH

Here is a list of the most famous and popular American illustrators. There are too many try and catalogue. But these exemplify the Golden Age of Illustration Art.

Famous Optical Illusion Illustration
All Is Vanity by Charles Allan Gilbert 1882
Morales, R. and Macpherson, F. (July 2017), "All Is Vanity" in F. Macpherson (ed.), read the article at The Illusions Index.
Illustration History Artists : Another excellent reference for Illustration Artists. Also highlighting illustration art genres.
Illustration Chronicles explores a history of illustration through the images, illustrators and events of the past 175 years.
To find more, do an image search on Google by name or search Pinterest and Tumblr.
Another way to enjoy the work of obscure or unknown illustrators are to study magazine cover illustrations, vintage advertising, music sheets, book illustrations and the like. They can be collected or enjoyed by way of...
Genre: Magazines, Posters, Books, Comics, Postcards,
Period: Victorian, Art Deco, Art Nouveau, War Time, etc.
Subject: Occupations like doctor, policman, fireman, or Animals, Places, etc.
Among others...
Now with the internet, one can shop and purchase to build a physical collection or build a digital collection online using Pinterest, Tumblr or similar platform to arrange and store your finds.

"I Want YOU!" – The Story of
James Montgomery Flagg's Iconic Poster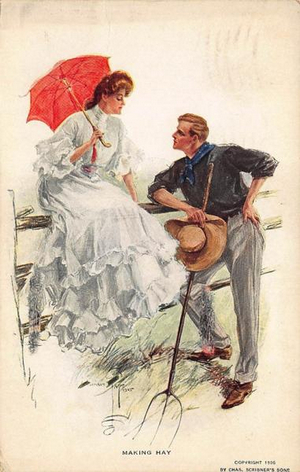 The beautiful women of Harrison Fisher